EMQX Receives Badges for Message Queue and IoT Connectivity in G2's Spring 2023 Report
Apr 14, 2023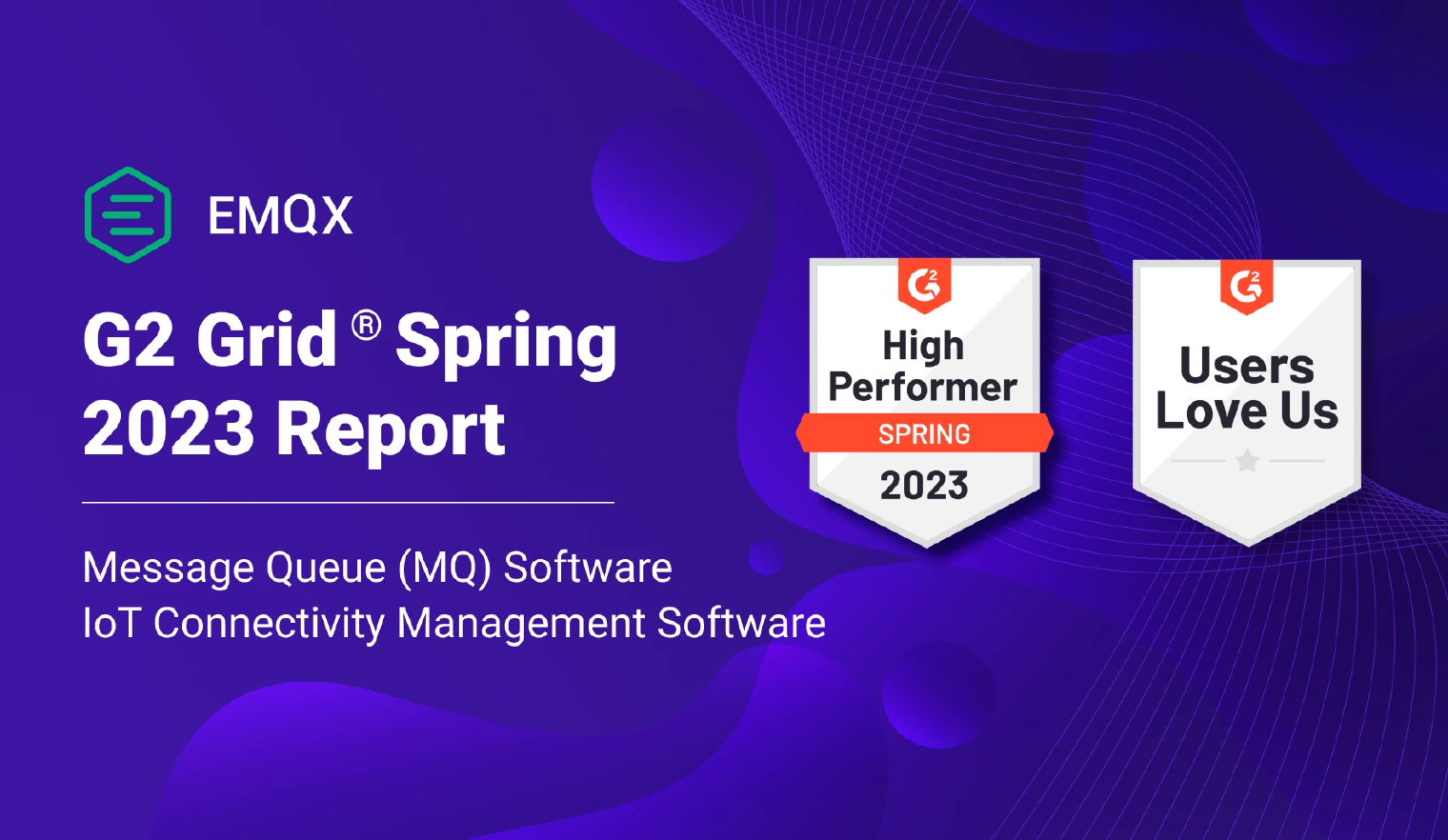 MORGAN HILL, Calif., April 2023 — EMQ is excited to announce that EMQX, our open-source MQTT messaging platform, has been awarded two High Performer badges in G2's Spring 2023 Grid Report. The badges indicate customer satisfaction with the EMQX product range in the Message Queue (MQ) and Internet of Things (IoT) Connectivity Management categories.
"We are so grateful to our customers, whose support allowed us to achieve these High Performer badges," said Feng Lee, founder and CEO at EMQ. "I also would like to extend my gratitude to the EMQ team, whose hard work has helped our products stand out among thousands of solutions available on G2."
G2 is the largest and most trusted software marketplace, where users can make informed software decisions based on authentic peer reviews, ranked by factors including ease of use and quality of support. The marketplace lists more than 145,000 B2B software products and services in more than 2,100 categories.
EMQX, the trusted name in MQTT brokers
Developed by EMQ, EMQX is the world's most reliable and scalable MQTT broker. Boasting more than 20,000 global users in more than 50 countries. Additionally, EMQX was the first to introduce an implementation of MQTT over QUIC and the first to support 100 million concurrent IoT device connections per cluster.
Built on EMQX, EMQX Cloud is the world's first fully managed, cloud-native MQTT 5.0 messaging service. EMQX Cloud combines one-stop O&M co-location with real-time IoT data movement, processing, and integration, allowing users to develop IoT applications on a public cloud without the O&M infrastructure burden. It can scale elastically on demand to handle throughput changes while also integrating with more than 40 cloud services out of the box.
In addition, EMQX Enterprise is designed for on-premises customers, helping organizations quickly build business-critical IoT applications without barriers to performance and development. The Enterprise platform supports any deployment on a public or private cloud, machine, or container/K8s.
These robust and flexible cloud edge solutions are specifically designed for and implemented in IoT/IoV/IIoT applications such as automotive, manufacturing, energy and utilities, oil and gas, transportation and logistics, finance and payment, and more.
Try EMQX Enterprise for Free
Connect any device, at any scale, anywhere.
Get Started →