EMQ Delivers EMQX Cloud Through Google Cloud Platform Marketplace
May 24, 2023
---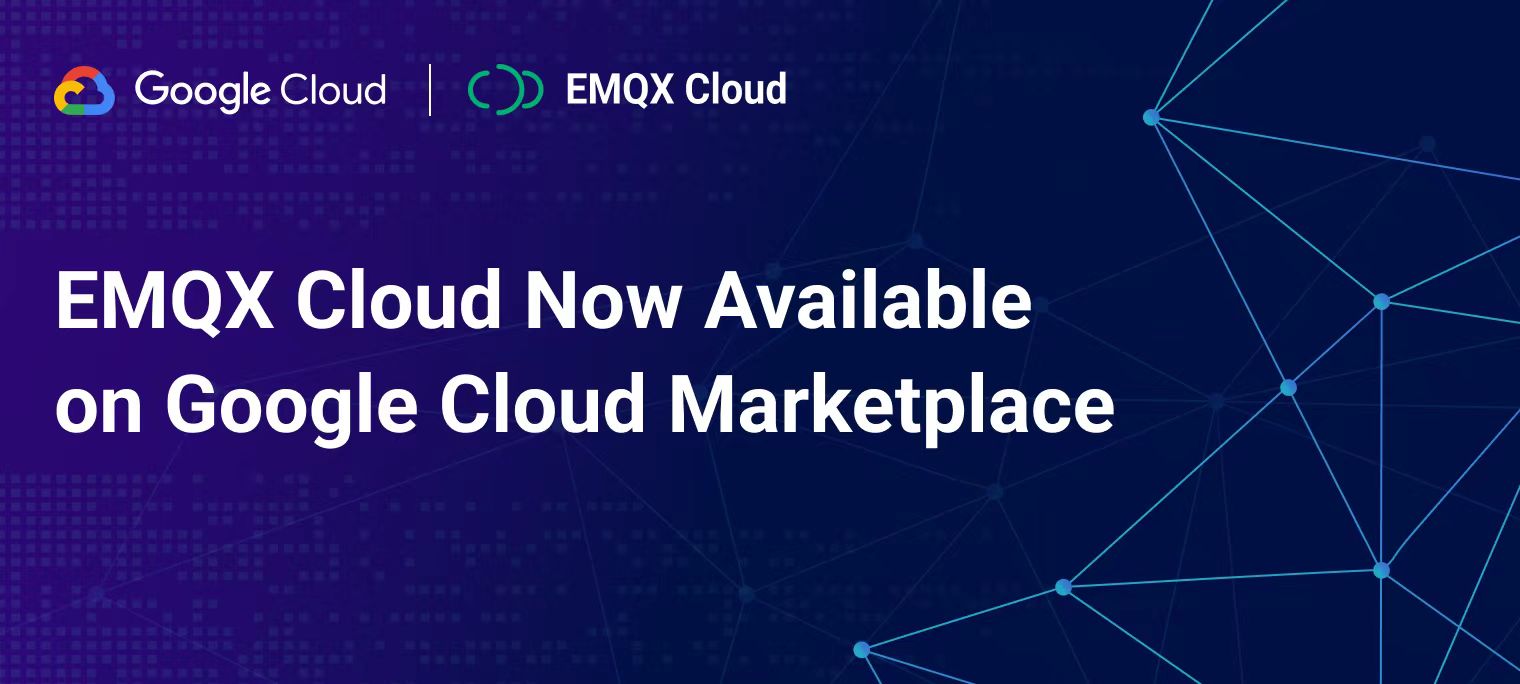 Morgan Hill, CA, May 24, 2023 – EMQ, developer of the open-source MQTT messaging platform, EMQX, today announced the global availability of its fully managed MQTT service, EMQX Cloud, on Google Cloud Marketplace, providing customers with the ease to purchase and manage MQTT service alongside their other Google Cloud services from one place.
Google Cloud Marketplace lets users quickly deploy functional software packages that run on Google Cloud. Google Cloud Marketplace allows customers to easily start up a familiar software package with services like Compute Engine or Cloud Storage, with no manual configuration required.
By August 16, 2023, Google Cloud IoT Core will no longer be available. All IoT Core users must migrate their applications to alternative MQTT services before this date to ensure uninterrupted service for their IoT business. As a Google Cloud certified partner, EMQ provides fully managed MQTT cloud services for IoT applications and platforms. EMQX Cloud supports up to tens of millions of device connections, processes millions of MQTT messages per second, and assures the security, reliability, and resiliency of their IoT data infrastructure. Adding EMQX Cloud to Google Cloud Marketplace offers an additional avenue for support, allowing EMQ's users to tap into Google Cloud's global scale and expertise. This provides Google Cloud customers with direct access to the capabilities EMQX provides through the EMQX Cloud MQTT service.
Google Cloud users can also easily migrate their devices from the deprecated Google Cloud IoT Core to EMQX Cloud while continuing to use Google Cloud infrastructure seamlessly.
Dai Vu, Managing Director, Cloud Marketplace & ISV GTM Initiatives states: "Expanding our partnership with EMQ means accelerating the digital transformation process for our customers. Now, they can safely manage MQTT messaging services for IoT all in one convenient location–on Google Cloud Marketplace."
Dylan Kennedy, President & CEO of EMQ Technologies US, states: "We are delighted to be expanding our relationship with Google Cloud. Our fully managed MQTT service presence on Google Cloud Marketplace strengthens our collaboration with our shared customers and partners, providing facility and support to IoT businesses worldwide on their cloud journey. We look forward to leveraging this opportunity for even more effective engagement and connectivity."
3 Major Benefits of Adopting EMQX Cloud via Google Cloud Marketplace
EMQX Cloud onboarding through Google Cloud Marketplace provides the best possible experience in delivering the highest quality IoT connectivity solutions:
Simplified Billing to Meet Google Cloud Committed Spend
Listing EMQX on Google Cloud Marketplace offers users a hassle-free procurement process, providing them with easy purchase and deployment options for those who are looking for ideal IoT connectivity solutions. Additionally, customers can take advantage of simplified and unified monthly billing and include their spending on EMQX Cloud towards their Google Cloud committed spend. It would also be much easier to draft a purchase contract under the umbrella of the cloud provider.
Fully integrated with other Google Cloud services
EMQX Cloud can integrate easily with other Google Cloud services – such as Pub/Sub. The direct result and benefit are in providing customers with a complete end-to-end IoT connectivity solution that will allow businesses to control Google Cloud's data management and EMQ's MQTT connectivity capabilities.
Easy, Secure Migration from Google IoT Core to EMQX via Google Cloud Marketplace
Listing EMQX on Google Cloud Marketplace also eases migration for current IoT Core users. EMQ can guide how to migrate successfully, and EMQ's expertise in Google Cloud IoT Core migration guarantees a smooth, secure migration to EMQX Cloud with minimum downtime. Learn more about the migration tutorials here.
Try EMQX Cloud on Google Cloud Marketplace
Try Now →