EMQX Wins the Winter 2023 Leader Award in MQTT Brokers from SourceForge
Mar 10, 2023
---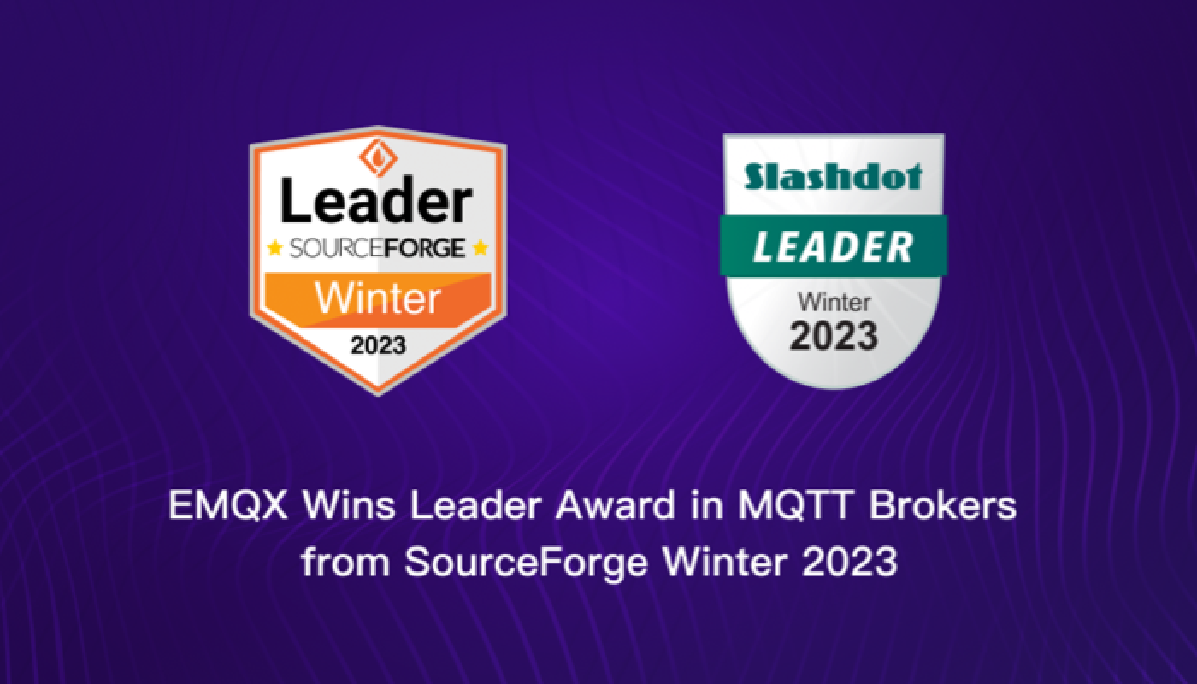 EMQX is proud to be a winner of the Leader award from SourceForge, the world's largest software reviews and comparison website.
MORGAN HILL, CA, March 6, 2023 – EMQ, developer of the world's leading open source MQTT messaging platform, EMQX, recently announced that it had been awarded a Winter 2023 Leader Award by SourceForge, the world's largest software and services review platform. SourceForge has become a trusted source to help businesses make informed decisions regarding their software needs in an ever-changing digital world. This award recognizes exceptional companies and products with outstanding user reviews that put them in the top fifth percentile of highly reviewed products on SourceForge. For EMQX, this is a huge achievement, as our product has been selected as best-in-class from over 60,000 products on SourceForge. This prestigious award is also a clear endorsement of our IoT connectivity solutions among IoT decision-makers and developers from all around the world.
"It's my pleasure to award the Winter 2023 Leaders on SourceForge. EMQX has been named a Leader this Winter in the MQTT Brokers category, and their numerous outstanding user reviews are proof of the excellent solution they provide to their customers. Congratulations, and keep up the great work!" said SourceForge President Logan Abbott.
"We couldn't be happier about the Winter 2023 Leader Award, as real feedback from our customers validates our efforts to solve pain points and turn them into wins," said Dylan Kennedy, General Manager at EMQ. "EMQ prides itself on offering best-in-class performance. We're glad to see our MQTT messaging platform being used in various industries towards digital transformation, including IoT, connected vehicles, Industrial IoT, oil & gas, carrier, finance, smart energy, and smart cities."
To win the Winter 2023 Leader award, each winner had to receive enough high-rated user reviews to place the winning product in the top 5% of favorably reviewed products on SourceForge, which demonstrates the performance that EMQX delivers to global IoT customers. We'd like to thank all of the EMQX users who have taken the time to write such detailed and thoughtful reviews.
As of today, MQTT is one of the leading and most convincing protocols in the IoT due to its highly scalable and reliable feature to connect devices over the Internet. Since its inception, EMQ has been committed to advancing the MQTT standard for reliable IoT messaging. Its core product, EMQX, has become the world's most scalable and reliable MQTT broker, supporting 100M concurrent IoT device connections per cluster while maintaining extremely high throughput and sub-millisecond latency. EMQX boasts more than 20,000 global users from over 50 countries, connecting more than 100M IoT devices worldwide, and is trusted by over 400 customers in mission-critical IoT scenarios, including well-known brands like HPE, VMware, Verifone, SAIC Volkswagen, and Ericsson.
Looking ahead, EMQ will continue to scale proven enterprise-level IoT data solutions at a global level to forge our digital future.
Visit our SourceForge profile now and hear more about our customer's experience with the EMQX!
About SourceForge

SourceForge.net is the world's largest software comparison directory, serving nearly 30 million users every month and featuring user reviews, product comparisons, software guides, and more. SourceForge's mission is to help businesses find the best software to fit their needs and their budget. There are a variety of software tools available to businesses, and there are tools in almost every category and niche, each serving a slightly different purpose. SourceForge also powers the Slashdot.org/software/ business software and services directory.