EMQX 5.3.0: Fortifying Compliance and Streamlining Access with New Security Features
Oct 19, 2023
---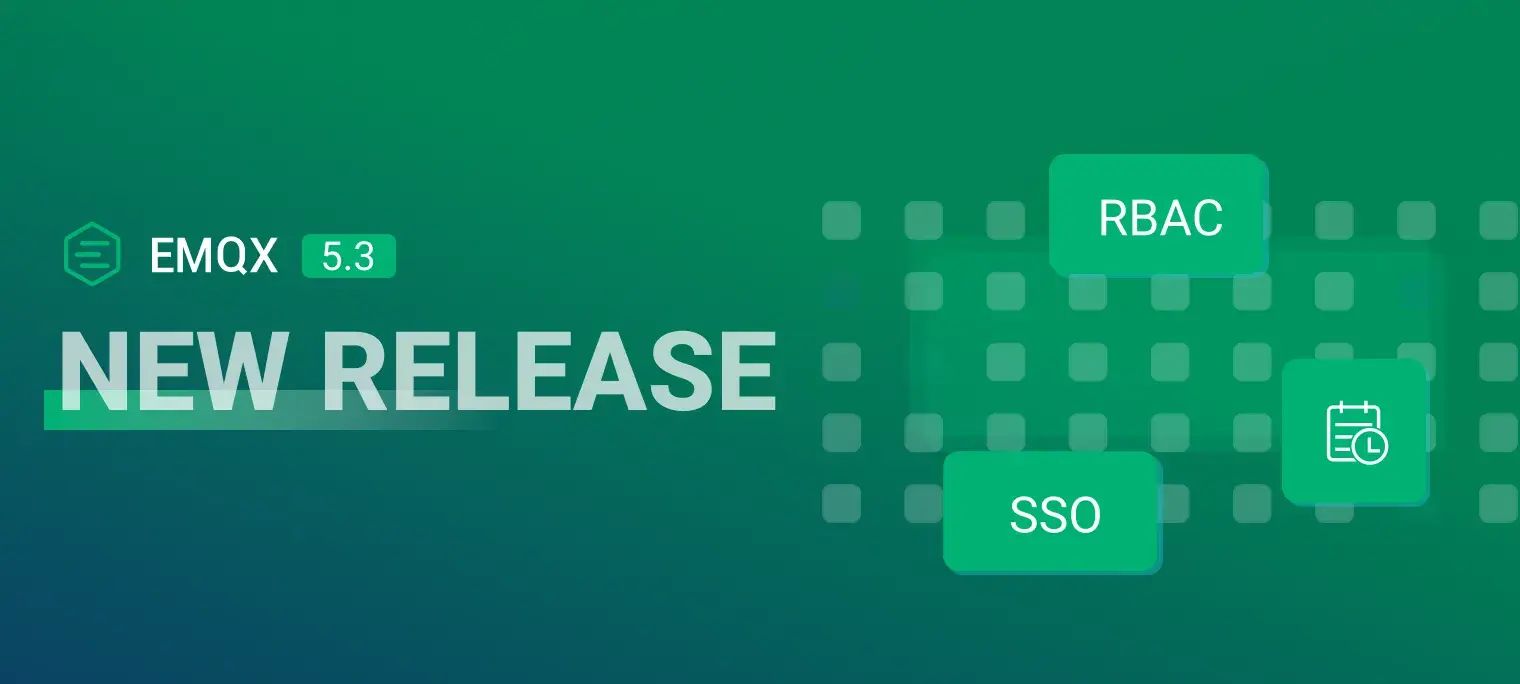 Morgan Hill, CA, Oct.17, 2023 – EMQ, developer of the world's leading open-source MQTT messaging platform, EMQX, is excited to announce the release of EMQX Enterprise 5.3.0. This latest version of the acclaimed MQTT broker delivers an array of enterprise features, including Audit Logs, Role-Based Access Control (RBAC), and Single Sign-On (SSO). These innovations bolster the security, ease of management, and governance of enterprise deployments. These advancements reaffirm EMQX Enterprise's status as the go-to choice for scalable and secure messaging in enterprise IoT.
Audit Logs for Enhanced Compliance and Security
EMQX Enterprise 5.3.0 introduces Audit Logs, a critical feature designed to capture and monitor all significant operational activities within the system. This real-time auditing capability facilitates compliance adherence for organizations, providing a transparent view of crucial actions during cluster management and configuration.
The new Audit Logs feature records all key operations originating from the Dashboard, REST API, and Command Line, including user logins and resource modifications. It captures essential details such as operation targets, initiating users, source IP addresses, browser characteristics, key parameters, and the outcome of each action. This information is easily accessible and searchable, enabling efficient compliance and security audits during ongoing operations.
Dashboard RBAC for Enhanced Permission Management
The EMQX Dashboard is at the heart of EMQX cluster management, and in large enterprises, team members often have varying responsibilities. EMQX Enterprise 5.3.0 addresses this challenge with the introduction of Role-Based Access Control (RBAC) for permission management.
RBAC assigns distinct access privileges to users based on their roles within the organization, simplifying permission management and enhancing access control. Presently, two predefined roles are available:
Administrator: Possesses complete administrative authority over all EMQX features and resources.
Viewer: Has read-only privileges, enabling access to EMQX data and configuration details.
Future releases will expand RBAC privilege management through the REST API, introducing additional predefined roles to meet the fine-grained access control requirements of large enterprises.
SSO Single-Point Login for Streamlined Authentication
EMQX Enterprise 5.3.0 introduces Single Sign-On (SSO) functionality, based on LDAP and SAML 2.0, to simplify user authentication. With SSO activated, users can seamlessly log in to the Dashboard using their existing Enterprise Management System (EMS) accounts, reducing the need for multiple passwords and minimizing security risks. Enterprises can centrally manage user identities and permissions, simplifying the process of handling, configuring, and deactivating user accounts. The EMQX Dashboard currently supports integration with LDAP SSO services, including those from OpenLDAP, and Microsoft Entra ID, as well as SAML 2.0 SSO services from identity providers like Okta and OneLogin.
Dylan Kennedy, CEO of EMQ Technologies Inc., stated, "EMQX Enterprise 5.3.0 represents a significant leap forward in providing enterprise users with enhanced security, manageability, and convenience. These new features underline our commitment to delivering the most robust and user-friendly messaging solution available."
For more information about EMQX Enterprise 5.3.0 and its features, please visit EMQX Enterprise: Enterprise MQTT Platform At Scale
Try EMQX Enterprise for Free
Connect any device, at any scale, anywhere.
Get Started →