EMQX Cloud Now Available in the Microsoft Azure Marketplace
Aug 16, 2023
---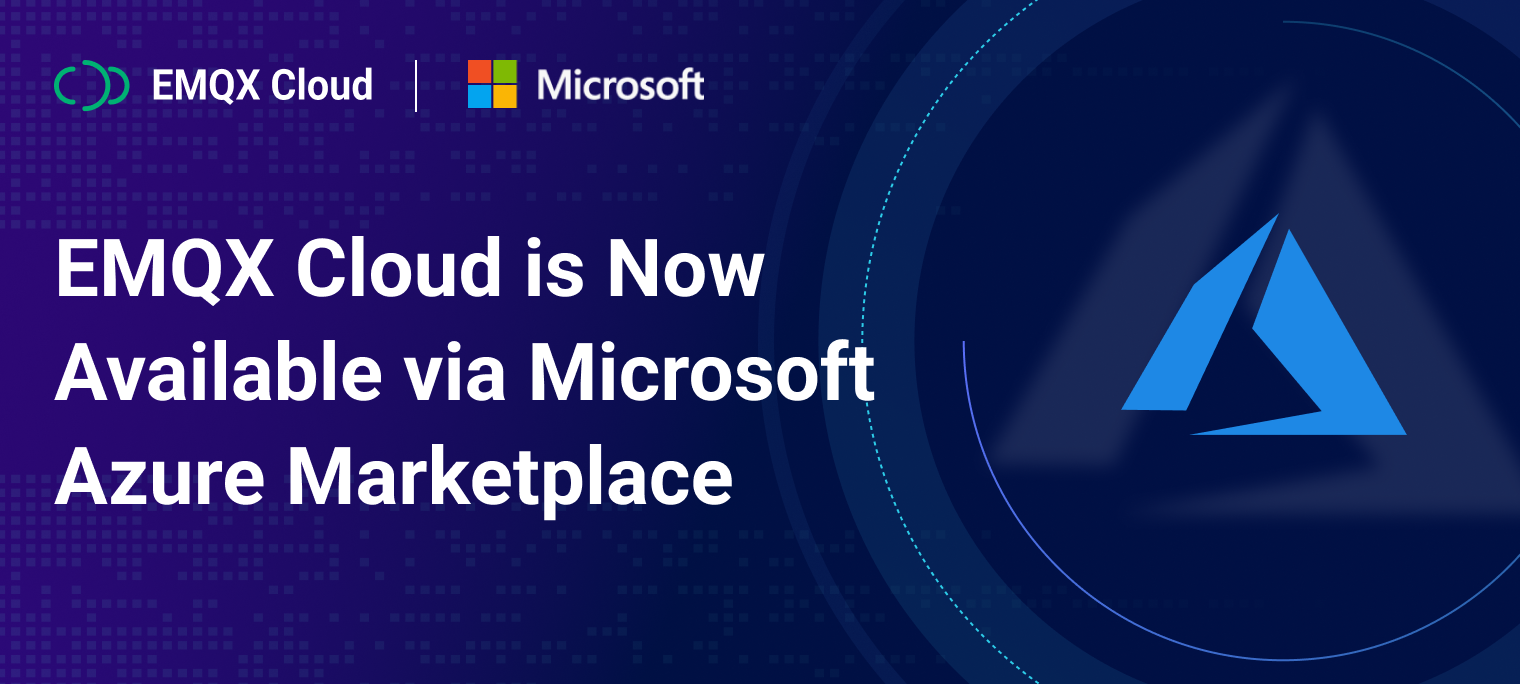 MORGAN HILL, CA, August 16, 2023 – After recent successful launches on AWS and Google Cloud marketplaces, EMQ has now taken the final step toward a cloud-optimized future brimming with possibilities: the world's leading provider of open-source IoT data infrastructure has announced the global availability of EMQX Cloud on the Azure Marketplace, helping companies seeking Azure-certified, readymade, cloud-based solutions.
Recognizing the importance of the cloud
To have a reputable presence on all three major cloud platforms is a telling achievement. EMQX customers can take advantage of a third platform offering pay-as-you-go pricing – more options, more flexibility. And now digital transformation is within the reach of many more companies, simplifying planning, scaling, and so much more by having access to multiple cloud platforms.
EMQX is commited to supporting IoT businesses and developer teams with reliable and high-performance solutions for IoT connectivity wherever they are building.
Looking into the power of EMQX Cloud Dedicated
As a fully managed MQTT cloud service on mainstream cloud platforms, EMQX Cloud Dedicated offers flexible deployment across multiple regions within Microsoft Azure. Establishing peering between EMQX Cloud and other Azure resources is a straightforward process, exceptionally convenient for users already deploying their resources on Azure.
Subscribing to EMQX Cloud from Azure Marketplace enables users to effortlessly manage charges and bills under their existing Microsoft Azure account. The subscription can be easily modified or canceled at any time, providing the freedom to adapt as needed. Trial users can access the majority of EMQX Cloud's features without a credit card required, simplifying the process of acquiring a fully managed MQTT service to just a few clicks.
So what's next for the cloud?
"Cloud continues to feature heavily in our customers' technical requirements and has become a critical part of our business. Marketplace integration also differentiates EMQX from many other IoT offerings on the market today, helping us stay competitive for the long-term. EMQ will continue to invest in creating diverse cloud options to support IoT applications of all kinds," EMQ Technologies CEO Dylan Kennedy states.
EMQX Cloud for Azure offers the ability to access high-performance MQTT services with ease and convenience, integrating IoT projects and billingly seamlessly into other Microsoft Azure services.
Learn more about EMQX Cloud right here and how the IoT experience is seeing a new cloud revolution.