EMQX Enterprise 5.2 Features Unveiled: Streamlining IoT Data Flow
Sep 27, 2023
---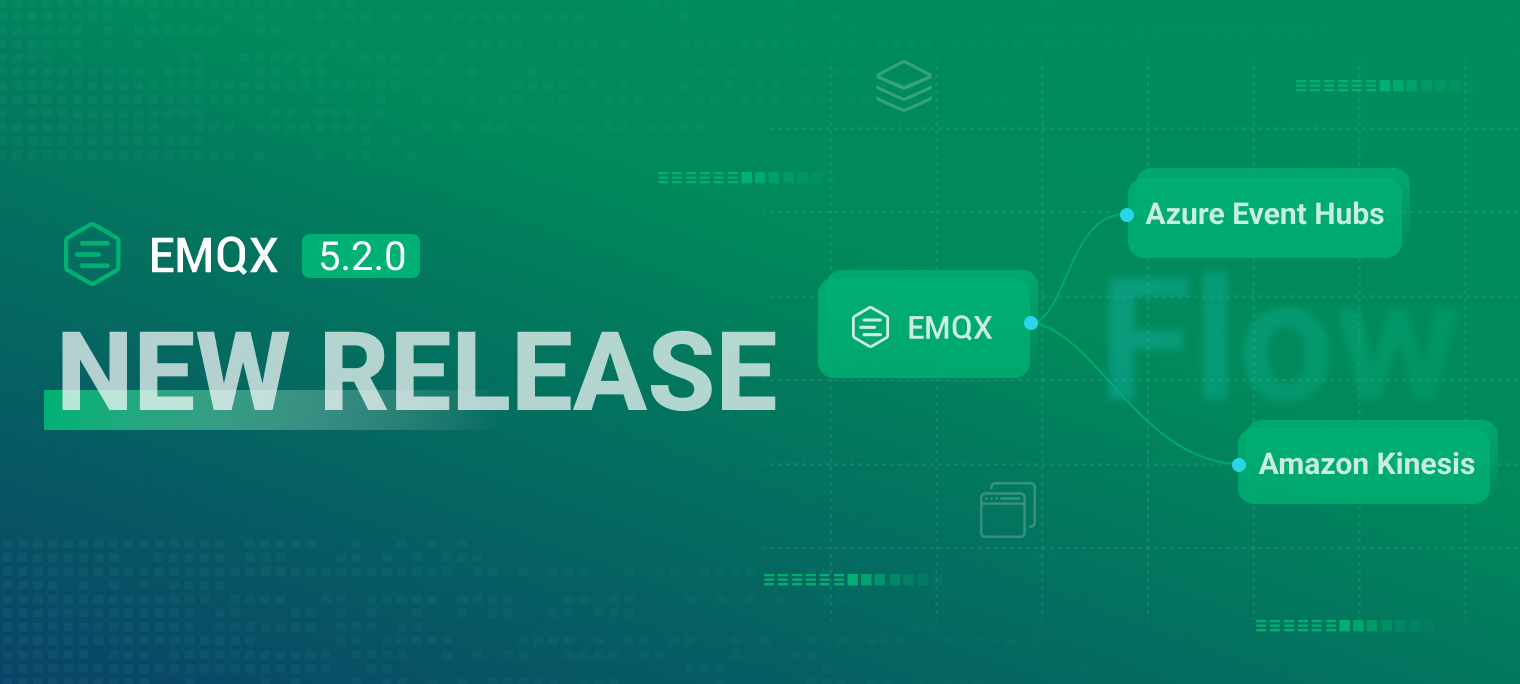 Morgan Hill, CA, Sept.26, 2023 – EMQ, developer of the world's leading open-source MQTT messaging platform, EMQX, is thrilled to unveil EMQX Enterprise 5.2, a feature-packed release designed to streamline IoT connectivity and data management.
This release represents a major milestone, introducing a host of significant enhancements. Leading the way is the groundbreaking Flow Designer, an intuitive visual tool that empowers enterprise users to effortlessly create, test, and deploy data integrations through simple drag-and-drop actions. Furthermore, we've expanded our data integration capabilities to support Amazon Kinesis and Azure Event Hubs, simplifying the integration of IoT device data with cloud services. Beyond these highlights, this version includes a multitude of other enhancements and bug fixes, resulting in a substantial boost to overall performance and stability.
Flow Designer: Simplified IoT Data Flow
With EMQX Enterprise 5.2, we introduce Flow Designer, a powerful tool that simplifies the way IoT data is integrated and managed. This user-friendly tool eases the design of rules and data bridges through an intuitive drag-and-drop interface, facilitating real-time message and event processing while seamlessly integrating with over 40 external data systems within minutes. Users can effortlessly manage data integration processes and monitor processing node statuses through a unified view.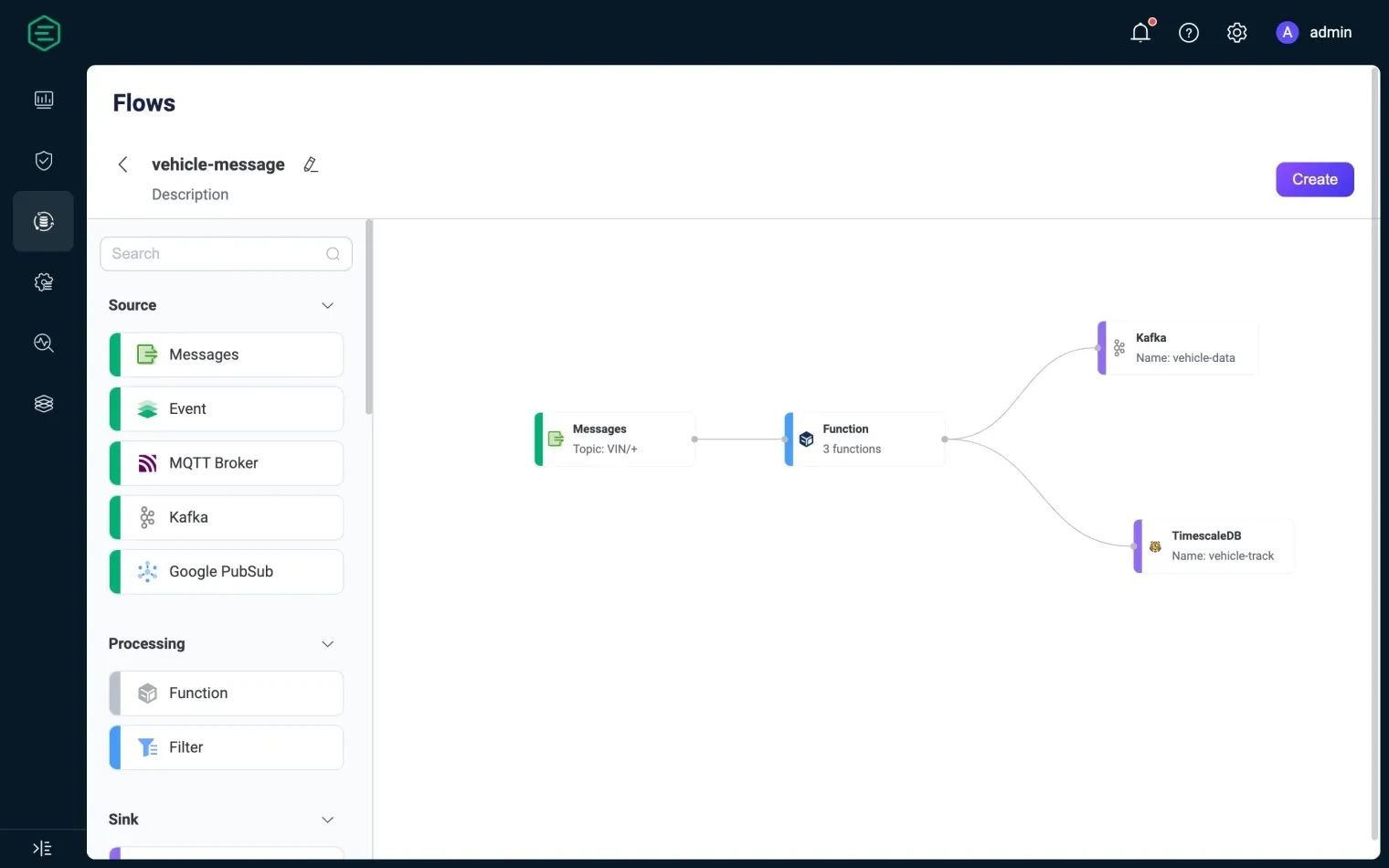 The Flow Designer leverages EMQX's robust data processing capabilities and outstanding performance, employing SQL-based programming and data bridging in the underlying layer. Users have the flexibility to seamlessly switch between the UI and SQL editors, choosing between familiar SQL editing or the faster, more intuitive UI editing style. This enhancement empowers users to innovate more rapidly, eliminating the need to delve into EMQX's SQL syntax and facilitating the application of EMQX's data processing capabilities for business growth.
Rule Engine Empowers Sparkplug B Support
EMQX Enterprise 5.2 now includes robust support for Sparkplug B Message Codecs in our Rule Engine. This enhancement ensures seamless compatibility with Sparkplug-enabled devices and systems, making it easier than ever to deploy and manage IoT solutions that adhere to industry standards.
This release introduces Sparkplug B message encode/decode functions directly into the rule engine SQL. Users can effortlessly convert Sparkplug B messages to JSON format using sparkplug_encode and sparkplug_decode functions within EMQX. The decoded JSON data can then undergo intricate processing via Rule Engine functions and seamlessly integrate with external data bridges, fostering robust business integration. This enhancement streamlines device interoperability in industrial IoT, enhances development efficiency, and enables flexible, scalable IoT applications.
Seamless Integration with OpenTelemetry
We understand the importance of comprehensive monitoring and observability in IoT environments. EMQX Enterprise 5.2 integrates seamlessly with OpenTelemetry, providing real-time insights into the performance and health of IoT infrastructure. With the OpenTelemetry Indicator, users can proactively identify and address potential issues.
This integration bolsters EMQX's monitoring capabilities by offering built-in support for OpenTelemetry metrics. It enhances the observation, analysis, and diagnosis of EMQX cluster performance. Additionally, future releases will see support for OpenTelemetry traces and logs, enabling end-to-end distributed diagnosis capabilities and comprehensive monitoring of system operation status. This advancement empowers users to swiftly identify and address anomalies, enriching EMQX's monitoring data.
Seamless Integration with Cloud Services
Additionally, EMQX Enterprise 5.2 expands its integration capabilities with prominent platforms, including:
Integration with Amazon Kinesis: Effortlessly stream IoT data to Amazon Kinesis for advanced analytics and stream processing for high-performance, data-driven applications on AWS. This integration allows for real-time analytics and complex stream processing, empowering EMQX users to create high-performance, data-driven applications on AWS.
Integration with Azure Event Hubs: EMQX's integration with Azure Event Hubs unlocks the potential of Azure's fully managed real-time streaming data processing service, designed for simplicity, reliability, and scalability. With the capacity to handle millions of streaming events per second and adapt to usage demands, it enables agile data pipelines and provides robust security and privacy safeguards.
Integration with Google Cloud Pub/Sub: EMQX offers seamless integration with Google Cloud Pub/Sub, an asynchronous messaging service known for its high reliability and scalability. This integration enables rapid connectivity through EMQX's Rule Engine, expediting the development of IoT applications on the Google Cloud Platform (GCP).
Moreover, EMQX's integration with HStream unlocks its robust streaming platform for IoT data processing, analysis, consumption, and replay. Simultaneously, the integration with GreptimeDB, a cloud-native time-series database, ensures efficient long-term storage and querying capabilities for extensive IoT datasets, empowering data-driven decision-making.
EMQX Enterprise 5.2 represents a significant milestone in our ongoing efforts to empower organizations with reliable, scalable, and secure IoT connectivity. To explore the possibilities and experience the future of IoT data management with EMQX Enterprise 5.2, please visit https://www.emqx.com/en/try?product=enterprise.
Try EMQX Enterprise for Free
Connect any device, at any scale, anywhere.
Get Started →